Integra to Host Climate-Smart Agriculture Event at Wilson Center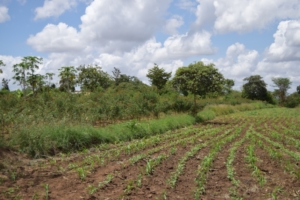 Integra is showcasing our Pathways to Climate-Smart Agriculture in Africa findings at the Woodrow Wilson Center in Washington, DC on Tuesday, September 13, 2016.
Climate-smart agriculture (CSA) is an approach that can offer farmers in Africa substantial benefits in terms of increased productivity and income, better risk management, and improved resilience to climate change. As such, CSA has become a key development goal, championed by donors and governments alike. Despite this focus, however, the adoption of CSA approaches and practices by smallholder farmers has been slow, piecemeal, and largely unsustained.
The common narrative is that adoption depends on accessibility, promotion of and training on specific CSA technologies, and increased access to markets. However, this narrative misses a number of key behavioral change factors, including the wider social, political, and institutional environment in which agriculture is embedded.
Integra and Clark University, on behalf of the United States Agency for International Development (USAID), recently addressed this knowledge gap by conducting a rigorous and systematic analysis of the factors shaping the adoption of CSA. In order to share findings from this report and more broadly discuss the key barriers and incentives to CSA adoption, we invite you to join us for a discussion with the report authors and commenting experts, followed by a reception. The event will take place at the Wilson Center on September 13th, from 4:00pm — 5:30pm.
To RSVP, please go to: https://www.wilsoncenter.org/event/pathways-to-climate-smart-agriculture-africa
https://www.integrallc.com/wp-content/uploads/2020/07/thumb_DSC_0589_1024.jpg
724
1086
actualize
https://www.integrallc.com/wp-content/uploads/2020/10/Integra-Blue-Logo-1.png
actualize
2016-09-06 00:00:00
2020-12-02 14:38:58
Integra to Host Climate-Smart Agriculture Event at Wilson Center